Everything you need to know to plan your stay at Hôtel de Biencourt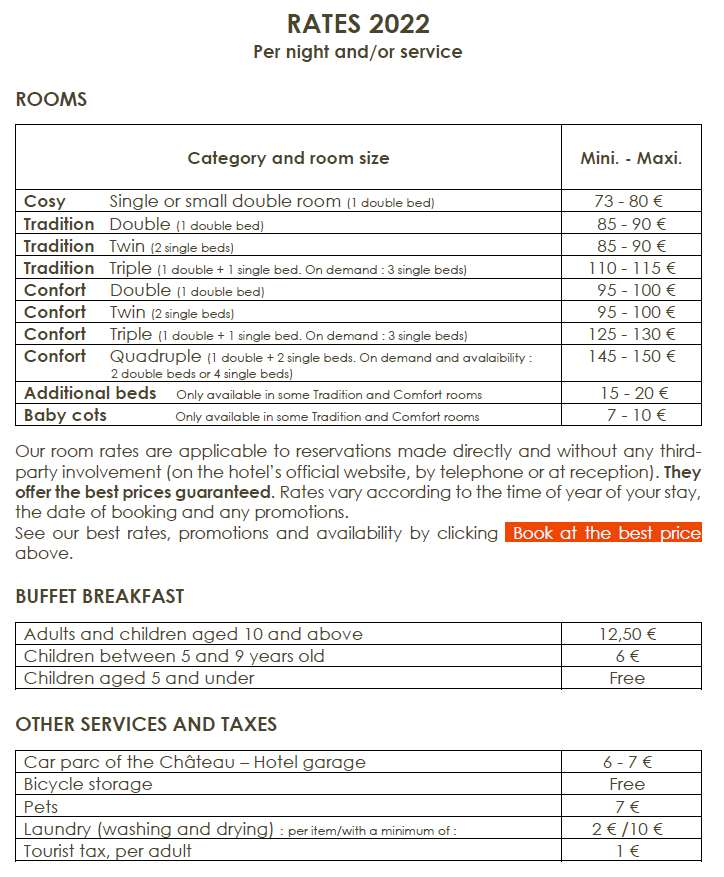 Gift vouchers!
We're pleased to offer gift vouchers for a stay at the hotel!
For more information, please don't hesitate to get in touch.
Payment methods
Payment methods accepted : Visa, EuroCard, MasterCard, French cheques, French holiday vouchers (these ones only in case of direct booking)
Times
Check-in: 3 p.m. to 8 p.m.
Please let us know in advance if you expect to arrive after 8 p.m. We will tell you how to access the hotel and your room
Check-out: 7.30 a.m. to 11.00 a.m.
Breakfast: 8.00 a.m. to 10.00 a.m.
Highlights
Situated in the very heart of Azay-le-Rideau, everything is within walking distance from the hotel, including the château, shops, restaurants and swimming pool (open in high season)
You'll find the hotel on a quiet pedestrianised street with pick-up/drop-off for guests only
Secure paid garage is available close by (By prior agreement ; subject to availability)
Lots more free and paid parking is also available nearby
Bike rentals and free storage
Free WiFi
Refrigerators available to guests
Non-smoking common areas and guest rooms
Opening dates
From Friday 27th of March 2021 afternoon to Thursday 11th of November 2021 in the morning
From Saturday 18th of December 2021 afternoon to Sunday 2nd of January 2022 in the morning
From Saturday 26th of March 2022 afternoon to Saturday 5th of November 2022 in the morning
Private hire
Excluding any national holidays, bank holidays and from 15 June to 30 September, Hôtel de Biencourt can be hired out for private functions and family events at least 2 consecutive nights.
For more information, please don't hesitate to get in touch.
Pets
The hotel gladly welcomes dogs and cats provided:
- that you notify us at reservation or almost one day before your arrival (For allergy reasons, some rooms are dedicated to them),
- they are calm, clean, kept on a leash in the common areas and no bigger than 40cm at the shoulder.

Please note application of an extra cleaning charge and the fact that, unfortunately, for allergy reason we cannot admit pets in the breakfast-room as well as in our lounge.
Recognition and awards
TripAdvisor: Certificate of Excellence since 2011-Travelers'Choice 2020 & 2021
Trivago: Best 3* Hotel in the Region